Understanding Curtain Linings

Clocks have gone back, and nights are drawing in, fires are lit, and the heating is on… but still, you have a cold nose and cold feet…
Is that because of the draughty windows and doors? Is it time to think about how effective your curtains are at keeping the cold out?
I have been asked about how to add interlining to existing curtains, so I decided to provide an informative post about linings and how they vary.
Basic Linings
Most curtains are lined with either a cotton or poly-cotton, white or cream that are either a flat or sateen finish. Coloured linings are available but usually more expensive. Basic linings vary in weight; generally, sateen linings offer a heavier weight and provide a superior finish helping curtains to hang better. The weight of the lining will be reflected in its' price. It is also a good idea to check that it is pre-shrunk so that when they are washed or dry cleaned they do not shrink. Generally, dry-cleaning does not result in shrinkage but this is not guaranteed.
Interlining
Interlining fabric is sewn between curtain face fabrics and basic linings. Interlining improves drape and hang of curtains, it helps protects face fabric from harmful sunlight and provides insulation. Different types of interlining are often available in different 'weights' and these are measured in grams e.g. 160 g/m2 the bigger the g/m2 the thicker it is. Depending on the type of interlining used it may be affected by damp conditions resulting in shrinkage that may affect the way your curtains hang. When using light face fabrics, it is possible, in daylight, to see through the curtain. Slight weave and irregularities, present with interlining fabrics, may be visible. It is important to choose your interlining carefully. It may be counterproductive and ill-advisedly to just choose the cheapest.
Interlining is available in white, cream and natural. Think about this if your face fabric allows light to pass through as it may affect the colour of your face fabric in daylight.
Bump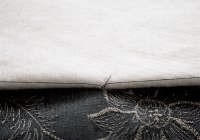 Cotton bump is generally made of a mixture of cotton and other fibres, with the highest percentage being cotton. Bump interlining may shrink between 4 and 10% so check this before you buy. It is great for windows and doors in old properties where draught exclusion is needed.
DOMETT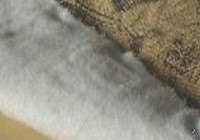 Domett interlining is 100% cotton and can be purchased pre-shrunk but may have a 4 to 10% shrinkage so beware of that before you buy. A cheaper price may indicate that it is not pre-shrunk. Domett is a twill-weave, brushed interlining fabric that has less weight and thickness of bump interlining. Great for medium-weight curtains.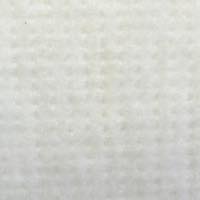 Sarille is a synthetic stitch-bonded heat-set interlining suitable for interlining Curtains, Roman blinds and top treatments including valances, pelmets and swags and tails. Heat setting the fabric reduces stretch and gives the Sarille interlining stability, resulting in minimal shrinkage. Ideal for use in kitchens and bathrooms and damp conditions. It is widely used and often a more practical choice given its stability.
Thermal and Blackout Lining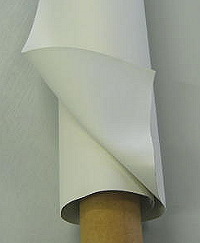 Thermal and blackout linings are cotton or cotton polyester mixed fabrics with a coating to provide thermal and blackout properties. This lining provides extra body for your curtains as it is heavier and stiffer than basic linings. This is the lining to choose if you want to block out light such as in a bedroom and can be used as lining for your interlined face fabric to tackle light and draught issues. The other great thing about coated lining is that they can offer a solution if you already have basic lined curtains and want to improve draughtproofing, without remaking your curtains. As described below.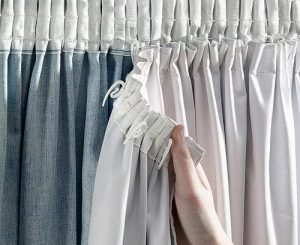 Detachable linings are linings made using a narrow heading tape that hooks onto the heading tape of your existing curtains. They can be made using basic or coated lining, but not interlining due to the instability
of interlining. Detachable linings do not need to be a full as your top curtains, but fullness does help with draughtproofing and light issues.
If you want to draughtproof your home using your existing curtains this maybe the best solution.
I hope that this has helped you understand and make an informed choice about your winter curtains
.
---