Understanding Curtain Headings

Goblet, pinch, pencil, wave… to name a few variations of curtain headings available.
How do you choose? What difference does it make what type of curtain heading you choose?
Things to consider (in no particular order).
· Type of Fabric
· Space either side of the window
· The pole or track that curtains will hang from
· Pelmets or Valances
· Desired look of curtains in the setting of the room
Gosh… that is a lot of things to think about when all you want to do is hang some curtains! Never fear… you will have already made most of these decisions when you decided to put curtains up.
Let's start with the easier ones.
Desired look of curtains in the setting of the room.
This relates to your personal taste and the overall style of the room. If your room is contemporary, then you are unlikely to want curtains that are very full using a heading that looks fully and frilly such as a smocking. You would probably want a heading that creates a neat, streamlined curtain such as a wave or box pleat.
This ties into the desired look of the room. Pelmet and valances can vary from contemporary to traditional to suit the style of the room. The main thing to consider is if the heading on the curtain will be visible or hidden by a pelmet or valance. There may be little point in investing in a hand pleated heating if it is not to be seen.
Space either side of the window
How much space is there either side of the window for curtains to fit into when they are open? If you have lots of space (30cm or more on average), fullness within curtains will be possible. Also, consider how you want that curtain to drape within that space. Do you want curtains when open, to clear the window or cover the edge of the frame? Do you want curtains to drape with soft fullness or pleat back to look neat, tidy and uniform? If space is limited, then less fullness and a heading that folds into a smaller space may be preferable. The amount of space that curtains require when open, will be influenced by the weight and type of fabric, if it is lined or unlined and if it is interlined or not.
What the curtains will hang from
Poles, rods, top fixed track, face fixed track, corded, not corded, with or without overlap brackets… I think that covers everything? Maybe include motorised or not.
This topic will be covered in full, another time. In relation to headings then consider the following.
Poles – the curtains need to hang below the pole from rings. Pleated headings look great on poles as there is space for the depth of the heading when curtains are closed and folded into pleats.
Top fix tracks – this means that the track is fitted to the ceiling and therefore the curtain will hang below the track.
Face fix tracks – fitted to the wall and the sliders are usually on the face of the track. Decide if you want to cover the track with the curtain or show it by placing curtains underneath the track. When covering the track, there is no space to pleat a heading when curtains are open so this option is not usually suitable for a hand pleated curtain.
Rods – curtains with a slot or tabs are needed for rods.
Corded tracks and overlap brackets are a matter of personal choice and do not add any further complications to heading choice. When choosing tracks or poles consideration must be given to weight of the curtains and the weight-bearing capability of tracks or poles. Tracks may fall, or curtains may not draw easily if tracks and poles are not able to bear the weight.
Type of fabric
If you choose a lightweight fabric is it usually desirable to have at least 3 times the width of your track especially if using a heading such as pencil pleat to avoid a flat uneven finish. Pleats will be narrow and therefore need to be closer together to avoid a flat appearance.
Medium weight fabrics, such as cottons, or linens will work well with almost any type of heading with fullness of at least twice the width of the track. However, lining and interlining will add more weight to the fabric and this may need to be considered.
Heavy fabrics such as velvet can be used with most heading once consideration to lining, interlining and draw back space has been given. Pleated headings require at least twice the width of tracks to spaced pleats evenly. If less fullness is required a heading tape such as pencil pleat will work well. Smock heading rarely works well as definition of pleating is lost in the bulk of the fabric.
At last … Heading Choices.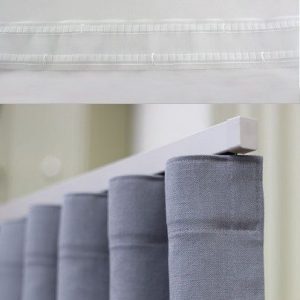 2.5 fullness is required for this type of heading.
Wave top for poles
. This is a 7.5 cm tape with cords that pull up into the wave effect. Note that you need twice as many rings on your pole as hooks sit either side of the wave to support it.
At least twice the width of your track or pole is needed for this heading.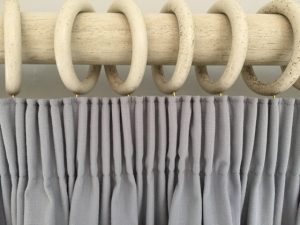 Pencil pleat tape
pulls up into an even 7.5cm row of pleats. This heading fits most tracks and poles.
Need at least double the width of the track for fullness, 3 to 3.5 for very light weight fabrics.
Top Tip: When pulling the strings on this type of heading, pull them as tight as you can and then even the pleats out to achieve straight, even gathers.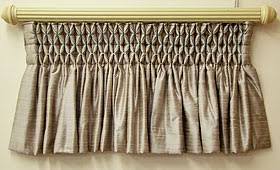 Triple pleat heading tape
pulls up into three pleats. To ensure a neat finish the bottom of the pleats need to be stitched into place or they will fall straight like a pencil pleat.
At least twice the width of the track is required for fullness.
Goblet pleat tape
form a rounded pleat that also requires stitching at the base. The cylinder shape should be filled with polyester wadding to keep the rounded shape in place.
2.5 times the track length is required for fullness.
Box pleat heading tape
looks very neat when curtains are closed.
This tape
requires 2.5 width track width for fulness.
With tapes that create pleats such as triple, box and goblet it can be difficult to ensure that pleats are evenly placed across the width of the fabric as they are pre-spaced by the pockets on the tape. They may also require long pronged hooks to help pleats stay in place.
The alternate way to make pleated heading is to use a buckram and create pleats by hand. The advantages are that pleats can be placed evenly across the width of the material. Buckram is stiffer resulting in pleats that hold their shape and the buckram 'learns' how to fold when the curtains are closed resulting in a neater finish to curtains. Buckram is available in three depths, 10cm, 12.5cm and 15cm and is fusible on one side or both side or not fusible. Single fusible is for lined curtains fused to the lining, double fusible is for interlined curtains and sits between the interlining and lining and sew-in is used when curtains are unlined. The superior finish of hand pleated curtains will be worth the extra expense. It is an investment that will provide long lasting quality curtains.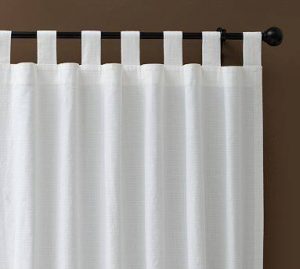 Tab top headings
are created by sewing loops of fabric on the top of the curtain that slot onto a pole. Fullness will depend on how flat you want the curtain to look when closed. This heading is informal, and it can be difficult to open and close the curtains as the fabric may not slide easily in the pole.
Ring top heading
is made with a buckram that has pre-cut holes that are sealed using a metal ring that is pushed together. Normally twice the width of the track is required for this type of heading. It will move easier than a tab top as metal rings will move on the pole easier than fabric tabs.
Curtains are an investment and if consideration is given to all the elements they can provide a homely finishing touch that you desire for your home.
---