Estimating Fabric for Curtains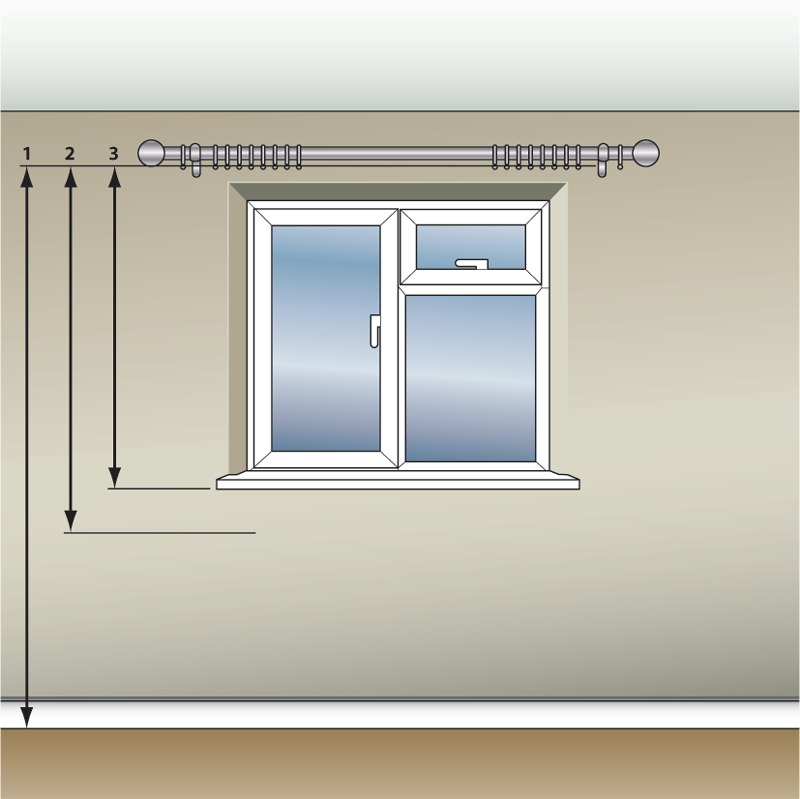 There are a number of factors to take into consideration when calculating how much fabric is needed for curtains.
Width of the track or pole and the finished desired length of the curtain.
Type of heading to be used.
Patterned fabric needs to be matched so that the curtains look the same. Especially important if more than one width of fabric is needed to be joined together.
Turnings for hems and headings.
Width of the Curtains.
First step is to measure the length of the track or pole that the curtains are going to hang from. It is always best to put up your track or pole before estimating fabric. Guessing where curtains are going to start and finish may result in purchasing too much or too little fabric, 10 to 20 cm may not sound much but can make a big difference when estimating fabric requirements.
Ideally, your track or pole needs to be wider than the window, so that when the curtains, are open they do not cover the window and block light. This 'stack back' space needs to be about 20 – 30 cm either side of the window but may vary depending on available space, fabric and headings. Therefore, when estimating fabric, the track width is used and not the window width as 60 cm 'stack back' is part of the fabric calculation.
Fullness
The table below will provide a guide for fullness requirements. However, fabric weight needs to be considered as a heavy fabric will need less fullness than a lightweight sheer fabric.
| | |
| --- | --- |
| Heading Type | Fullness Required |
| Gathered Headings | |
| Tape (narrow 28mm) | 1.75 – 2.25 |
| Tie or Tab Top | 1.25 – 2.50 |
| Pencil Pleat (50mm depth) | 2.50 – 2.75 |
| Bunched (Slot top) | 2.25 – 2.75 |
| Smock heading | 2.50 – 3.50 |
| | |
| Hand Pleats | |
| Triple Pleat | 2.50 -2.75 |
| Double Pleat | 2.25 – 2.75 |
| Goblet Pleat | 2.50 – 2.75 |
| Single or inverted | 2.25 – 2.75 |
| | |
| Sheers, Voiles and Nets | |
| Tape headings | 2.50 – 3.50 |
| Hand sewn Headings | 2.50 – 3.00 |
Most curtains look best with at least double fullness. Heavy fabric or fabrics with a dominant design that needs to be seen, fullness can be reduced to 1.5. However, 1.5 fullness will not be enough for hand-sewn pleated headings as the pleats would be too far apart. Reduction in fullness for heavy fabrics may be beneficial for tape, tab top, slot or ring type headings.
Hem allowance.
Add 20 cm for hems. Approximately 15cm double turned floor hem and a 5 cm turning for the top of the curtain.
Pattern Fabrics.
Add on one pattern repeat for each curtain drop. A drop is the one width of fabric and not a curtain.
Fabric is approximately 140 cm wide. Therefore, if your curtain needs to be 180 cm wide two pieces 140 cm wide would need to be seamed together. Each piece is called a drop. If your pattern repeat is 30cm then add this amount to each drop when estimating the amount of fabric required.
Fabric can be various widths from 140cm to 280cm in some countries. It is important to check the width of the fabric before calculating your quantity.
Example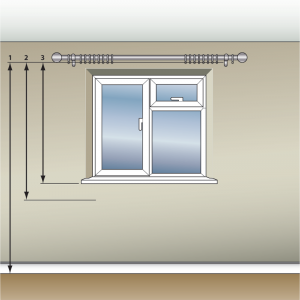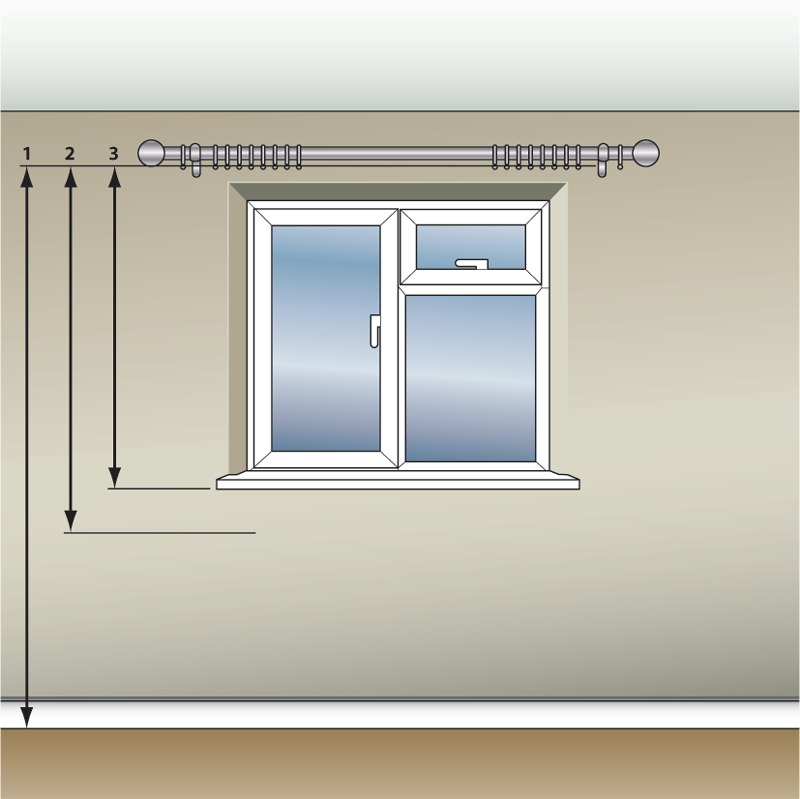 Measure the width of the pole. 180cm for this example.
Decide the length of the curtain (note the measurement is from the eyelet in the ring.
Note: If you want the curtain to drape on the floor add 3 – 8 cm depending on how much of a drape you would like on the floor.
For this example the length to the floor is 220cm.
Summary:
Width of the pole = 180 cm
Finished length of curtain to the floor with 5cm drape = 225 cm
Pencil pleat heading therefore 2.5 width measurement required.
180 x 2.5 = 440 cm wide.
Fabric is 140 cm wide therefore
140 x 3 = 420cm therefore 3 drops required (1.5 per curtain, one width cut in half and joined).
The length is 225cm + 20 for hems = 245cm
3 drops (or widths) x 245cm = 735cm or 7.35 metres.
If the fabric was patterned, then the pattern repeat would have to be added 3 times. Therefore, if the pattern repeat is 30 cm then 3 x 30 = 90cm then the fabric requirement would be 825cm or 8.25 metres.
This is a guide and individual factors need to be considered when choosing your curtains.
I hope that this is useful and please visit www.covers-curtains.com and sign up to receive our newsletter for more tips and guides.
Breaking news!!
To be launch January 2018 Cover & Curtains online shop. Great choice of cushions, tiebacks and heading tapes. Other products to be added include linen fabrics and linings.
To receive a launch discount code sign up for our newsletter here.
---